SHIDE in 123rd Spring Canton Fair
The 123rd Spring Canton Fair was held between April 15th and 19th in Pazhou International Exhibition Center Guangzhou.On behalf of Shide Group, our International Trading Department attended the Fair.
Group Chairman Mr. Sui Xin Min spared some time staying at our booth and had a few conversations with some of our customers. In addition, we were fortunate to have Deputy Director Mr. Li Yan Feng , from Dalian Foreign Trade Bureau showed up at our booth in the first day. Mr. Li wished us a harvest and more progress after this Fair and in the near future.
This time profile sales department and flooring sales department were there. Except for the full range profile and window samples, you would also find our latest product: formaldehyde free vinyl flooring. Flooring had attracted numerous customers to our booth and some of them even paid advance payment on the spot.
Shide has accumulated both customers from profile industry and flooring industry. This Canton Fair will definitely boost our development.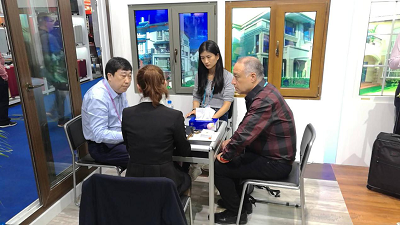 Chairman Mr. Sui with some customer
Deputy Director Mr. Li from Dalian Foreign Trade Bureau